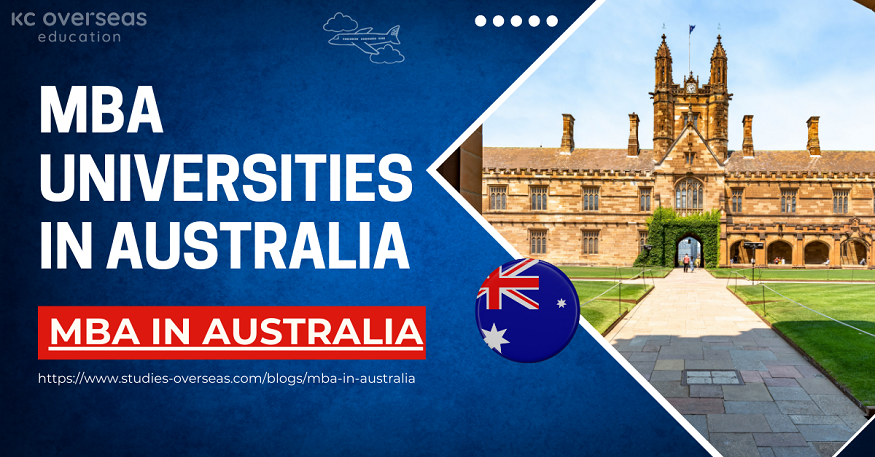 Budget-Friendly MBA Programs: Top Australian Universities to Consider
Australia, often referred to as the Great Southern Land, has warmly embraced international students. According to data from the Australian Education Ministry, a staggering 710,893 international students have enrolled in various programs across the country for the January-July 2023 period. Among these, the most sought-after course is the Master of Business Administration (MBA).
Let's delve into the reasons behind international students' preference for Australia for their MBA.
     World-class Education System: Australia boasts a world-class education system, renowned for its quality and excellence.
   Highly Qualified Teaching Faculty: Students benefit from the expertise of highly qualified and experienced teaching faculty.
   Availability of Scholarships: Scholarships offer financial support, making MBA programs more accessible.
   Globally Valued MBA Degree:For students pursuing higher study abroad, an Australian MBA is esteemed worldwide, opening doors to international career opportunities.
     Extensive Post-Study Work Visa Options: Graduates can extend their stay with work visas for up to 6 years, facilitating career growth.
     Great Job Prospects: Australia's strong economy provides ample job prospects for MBA graduates.
   Great Quality of Living:Students enjoy a high quality of life with a blend of urban sophistication and natural beauty.
Now, let's explore some of the popular MBA Universities in Australia in the following sections 
Popular MBA Universities in Australia
1. University of Tasmania
Renowned for its MBA programs, Australia's fourth-largest university accommodates over 34,000 international students. Ranked at 307 globally in the QS World University Ranking 2023 for business studies, this institution boasts two inviting campuses in Hobart and Launceston. Here, students encounter a dynamic, globally oriented curriculum, enriching student exchange initiatives, and a tranquil academic ambiance catering to international scholars. An impressive alumni network exceeding 105,000 members across 120 countries ensures promising career prospects. Remember that the intake periods for the programs outlined below occur in July and February annually. Embark on your journey to study in Australia and explore these enticing MBA specializations.
Popular MBA Specialization at the University of Tasmania
MBA Specialization
Tuition Fees
Course Duration (in Months)
Entrepreneurship
AU$ 34950
24
Finance
AU$ 34950
24
Business Research
AU$ 34950
24
Marketing
AU$ 34950
24
2. University of South Australia 
The University of South Australia (UniSA) stands as a testament to its excellence, boasting an impressive student body of 37,500+, including over 5,500 international scholars. With a vast alumni network exceeding 240,000 individuals, UniSA opens doors to promising career opportunities worldwide. The popularity of the MBA programs at UniSA can be attributed to its stellar rankings achieved over the years. Notably, it ranks 52nd among the Top Young Universities globally and holds the 4th position in Australia according to THE Young University Rankings 2023. Furthermore, UniSA Business proudly ranks among the top 1% worldwide.
To evaluate its MBA offerings, UniSA has garnered a prestigious five-star rating for excellence in research, employability, teaching, facilities, internationalization, and innovation. Aspiring students seeking an MBA in Australia will find UniSA to be a compelling choice. Let's explore some of the MBA and International MBA specializations offered at UniSA in the table below.
| | | |
| --- | --- | --- |
| International MBA Specialization | Tuition Fees | Course Duration (in Months) |
| Tourism and Event Management | AU$ 39600 | 24 |
| Marketing | AU$ 39600 | 24 |
| Finance | AU$ 39600 | 24 |
| Advertising and Brand Management | AU$ 39600 | 24 |
| Supply Chain Management | AU$ 39600 | 24 |
| Business Analytics | AU$ 39600 | 24 |
| Human Resource Management | AU$ 39600 | 24 |
3. Flinders University
Founded in 1996, Flinders University stands proudly among the top 2% of global universities. As the premier institution for teaching quality and student support in South Australia, it emerges as a global leader, committed to driving change through groundbreaking research initiatives and entrepreneurship opportunities.
Nestled across various towns and cities in Australia, Flinders University boasts innovative, state-of-the-art campuses. The main campus, situated at Adelaide's Bedford Park, is complemented by additional locations at Victoria Square, Festival Plaza, and Tonsley. These campuses are designed to cater to the holistic development of international students.
With a robust student body exceeding 25,000, pursuing over 500 undergraduate, postgraduate, and research degrees, the MBA program at Flinders University takes the center stage. This program embodies the institution's core values of Integrity, Courage, Innovation, and Excellence, fostering a student-centered environment for business studies. If you're considering an MBA, Flinders University is a compelling choice for your academic journey.
Here are the diverse MBA specializations offered at Flinders University,
| | | |
| --- | --- | --- |
| MBA Specialization | Tuition Fees | Course Duration (in Months) |
| Marketing | AU$ 37500 | 24 |
| Health Care Management | AU$ 37600 | 24 |
| Human Resource Management | AU$ 37600 | 24 |
| Finance | AU$ 37600 | 24 |
| International Business | AU$ 37500 | 24 |
| Business Analytics | AU$ 37500 | 24 |
| Health Administration | AU$ 39000 | 24 |
4. University of Newcastle
Ranked among the top 200 universities according to the QS World University 2024 rankings, the University of Newcastle has consistently shone for over half a century, delivering exceptional education to a diverse international student body.
Their business programs are strategically designed to tackle global challenges, emphasizing worldwide learning standards, excellent career placements, and fostering entrepreneurial skills. Equipped with cutting-edge campuses that offer innovative and inspiring educational approaches, the university spans various locations, including Newcastle CBD, Newcastle–Callaghan, Central Coast, Sydney, Port Macquarie, and an international campus in Singapore.
In this vibrant and dynamic educational environment, the University of Newcastle caters to a diverse community of over 37,000 students, providing a compelling platform for learning and personal growth.
Here are the diverse MBA specializations offered at the University of Newcastle,
| | | |
| --- | --- | --- |
| MBA Specialization | Tuition Fees | Course Duration (in Months) |
| Global MBA | AU$ 33805 | 24 |
| Data Analytics | AU$ 35125 | 24 |
| Human Resource Management | AU$ 41020 | 24 |
| Applied Finance | AU$ 41275 | 24 |
| International Business | AU$ 41220 | 24 |
| Marketing | AU$ 41280 | 24 |

In a nutshell, these three universities have consistently drawn the attention of diverse international students. Australian universities present a compelling and more affordable option compared to their Western counterparts. Moreover, beyond these institutions, a glance at the list of universities in Australia for international students reveals that several esteemed Australian universities, such as the University of Melbourne, University of Sydney, University of New South Wales, University of Queensland, and more, have secured top positions in the QS World University Ranking 2024, much like the universities mentioned above.
Additionally, MBA graduates are highly valued and recognized by employers in Australia. Some of the top recruiters for MBA graduates in Australia are the Commonwealth Bank of Australia, JP Morgan, ANZ Banking Corporation, Barclays, HSBC Global Asset Management, Allianz Global Investors, Fidelity Investments, and many more. The salary isquite competitive, and the average annual base salary is AU$105k. It is one of the best-paid jobs in Australia and the world. Job opportunities in finance, accountancy, human resources, supply chain, operations, sales and marketing, program management, and business development are widely available in Australia.
To enhance your prospects of securing admission to these prestigious institutions, enlisting the guidance of an expert overseas education provider is essential. So, reach out to an overseas education consultant and get started with your MBA application process.