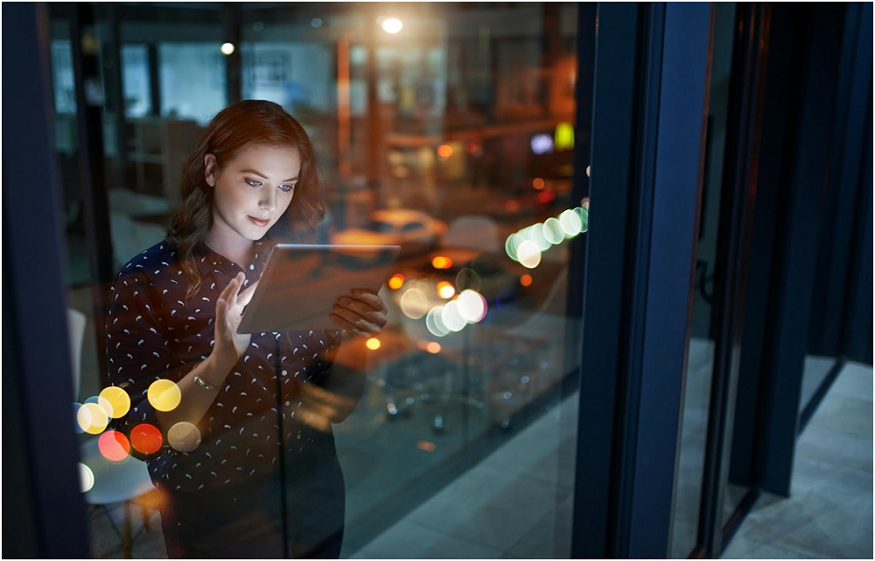 How can you switch to a career in tech?
If you're considering switching to a career in tech, it might seem impossible to get your foot in the door and gain your first role. However, there are ways that you can significantly improve your chances of starting your career in tech.
Gaining a recognized qualification
One of the first steps is to gain a recognized qualification. Although some people are fortunate enough to start a career in tech based on their experience, qualifications such as a master's degree in Electrical and Computer Engineering can help set you apart from other applicants. This can be studied online, leaving you able to work and fulfill other commitments around your studies.
It's important to remember that with remote learning, you need to put in the time and commitment. While it's great that you can study at your own pace, you will need to motivate yourself. Kettering University Online offers ongoing support by making it easier to contact your professors through a range of methods, including telephone, voicemail, email, faxing, bulletin boards, or chat rooms. However, you are the only one who can decide to make time for regular study sessions and stick to your resolve. The qualities you need to achieve a remote qualification, such as motivation and time management, can make you more appealing to employers.
Gaining relevant experience
Experience is also beneficial when looking for a tech job. There can be many applicants for each advertised job. So, the more criteria you match or exceed, the more likely you are to be hired instead of applicants who have less experience or lower qualifications.
There are a couple of ways to gain experience. You can arrange a local work placement, look at volunteer roles where you can put your knowledge into practice, or perhaps find a paid internship. What you choose to do depends on your circumstances. Some people may have the time to work without pay in order to gain experience. Others may have a family to support and will be the sole earner, making it impossible to survive without an income. If this sounds like you, then a paid internship can be the best option for gaining experience while earning.
Hands-on experience can also give you a chance to see whether working in tech is right for you. There can be a difference between enjoying technology and building a new career around it. Work experience is the perfect opportunity to ensure that you're on the right path.
Choose from a variety of roles
It can also help to have a clear idea of the specific role you want to pursue in the tech industry. This can enable you to find the study path you need so that you can learn the relevant knowledge and give yourself the best chance of succeeding.
Before deciding on your ideal role, it helps to know which tech roles are most in demand. Knowing this will help you have a long and successful career in a job that matches your skills. If you've put the time and effort into gaining your master's degree, you will want to ensure that your future is as secure as possible.
If you love to create and improve on existing technology, then working as a software developer might be the ideal career path for you. The average salary is around $110,000, and the unemployment rate for qualified software developers is just 3%.
According to the Bureau of Labor Statistics, there could be as many as 409,500 extra jobs available for software developers between 2020 and 2030. So, if this is something that interests you, now is the time to get started in your tech career.
Another role that you might consider is an information security analyst. This has an average salary of over $103,000. The demand for qualified professionals who can keep hackers out of computer systems and prevent data breaches is likely to rise in the coming years. The increased demand is because more successful businesses are relying heavily on technology. They digitally store their own financial information and their customers' or clients' personal details.
According to research from Statista, the three industries with the highest number of reported breaches are healthcare, financial services, and manufacturing. A data breach in one of these industries could cause serious problems for the organizations and those who benefit from the services they provide. Therefore, it's important for them to prevent people from outside the organization, and sometimes those inside it, from accessing confidential information that can be misused. Your passion for tech could help to prevent these breaches and the wider effects they cause.
Of course, there are other roles you can work in related to tech. Your university should be able to provide advice and support to help you determine which jobs within tech would be right for you. They can then ensure that your qualification path matches this and prepares you for your chosen career.
The skills you need to develop
You can also increase your chances of having a successful career by working on the skills you need. This includes a mix of hard and soft skills, which will make you more desirable to employees.
Some of the hard skills are more obvious, such as IT skills, a strong analytical ability, a firm grasp of marketing, project management, and a talent for design.
The exact skills you need will depend on the sub-industry you want to work in. However, many jobs within tech will require the same core skills. You will gain many of these from your education and experience, but it can help to practice them in your spare time. For example, if you want to work in design, you can spend time looking at other companies and how they successfully use design to create their websites, social media graphics and marketing materials. You could even try creating some of your own for a fictitious company. This would give you practice and help you improve.
You might design some graphics for your own social media posts or website if you have one. This would also help with networking, which we will discuss later.
You could also work on improving your soft skills, as some applicants for tech jobs might neglect these. Although your role will revolve around tech, communication skills are vital. You may be required to work in a team or to relay your findings to team members, managers, shareholders, or at conferences in front of large audiences. It's important to be able to communicate clearly with people on all levels and from different walks of life. If you already have a career, this may be one that involves communicating. You will be at an advantage, compared to people who are just starting their first career.
Other soft skills you can practice include creativity and teamwork. These are transferable to many tech jobs and can make a difference in securing your first role in this industry. You could develop these by creating online study groups with other students, and learning together.
Create an impressive portfolio
You can gain an advantage by creating an impressive portfolio. Your portfolio should be related to the specific job role you want to apply for. You can use some of your coursework, particularly if this includes practical tasks such as designing a website, creating graphics, building up a social media page, or any mock-ups of marketing materials you have worked on.
In addition to coursework, you can use examples from work placements, voluntary work, or internships to fill out your portfolio. You might also use examples from personal projects. Perhaps you helped to design the college newspaper, or perhaps you have a hobby or follow a specific band or television show, and have set up a social media page to share information with other fans.
There are so many different jobs in tech. Your portfolio should show an employer the skills you have that match the responsibilities for the role you are applying for. It needs to be clear to them at first glance that your practical experience is exactly what they are looking for. As we mentioned earlier, each job will attract a high number of applicants. No employer or hiring manager will have the time to look through your portfolio for something that matches the job requirements if you haven't made this obvious to them.
If you're applying to several jobs in tech where different skills are needed for each one, then create separate portfolios for each of these.
Tailor your CV and cover letter
Similarly to your portfolio, your CV and cover letter should be relevant to the job you are applying for.
It can be helpful to have a template cover letter and a main CV. This will save you from having to create these each time you apply for a job. However, you will need to adapt the CV and letter for each application. The list of responsibilities and specifications may differ slightly. So, even if you're only applying to work in one specific type of job, you need to make the hiring manager feel that you are talking directly to them. If you use the exact same CV and cover letter for every application, it is more likely that you will miss out information that was asked for, or include things that are not relevant to the job you are applying for.
It is tempting to try to save time by reusing the same CV and cover letter, or not responding to the specifications. It's a competitive job market and it can seem like a high quantity of applications will improve your chances. This is rarely true. Quality is often the better option and will result in you getting hired quicker.
Research the company you want to work for
Researching the company you want to work for can help you in several ways. Knowing more about the company will benefit you at that awkward part at the end of the interview when the interviewer asks if you have any questions. Being able to tailor your questions to facts that are specific to that organization will demonstrate your knowledge and interest in the company. This could be related to recent achievements or growth. Your question might be about what their plans are, following a recent expansion in the new city.
Research also gives you the chance to find out more about the job and the company. Hiring is a two-way process and you want to ensure that the job is right for you, just as much as they want to know if you are right for the job.
A common interview question is, what do you know about us? Researching the company ensures that you will be fully equipped to provide a satisfactory answer. If the interviewers have lots of candidates, you will improve your chances, compared to someone with little or no knowledge of the company.
Consider freelancing
We all have to gain experience somehow, and employers can be quite specific about the type of employee they're looking for. If a combination of qualifications, work experience placements or voluntary work, and soft and hard skills isn't enough for some employers, then there are ways around this.
One thing to consider is freelancing. This doesn't have to be a long-term solution. It can be used as a way to gain professional experience, in addition to any work experience you have already done, and you will earn money. How much you earn is up to you, because you can set your own rates. However, these should reflect your experience. You are just starting your career in tech, so make sure that your rates reflect this. However, this doesn't mean that you can't charge clients a fair rate that covers your time and skills. Try to find a middle ground that suits both you and the client.
As you build your experience, you might decide that you prefer freelancing. Or, you could apply for tech jobs and highlight your relevant experience, talking about some of your bigger achievements and satisfied clients. This should be enough to appeal to employers. Besides showing that you have developed experience and hold relevant qualifications, having freelance experience shows self-discipline and motivation. Good employers value this in their employees.
Be prepared to start in a junior role
Your first job in tech might be at a lower level than you initially wanted. However, there are chances to work your way up and earn more money.
By consistently doing the job to the best of your abilities, working hard, making significant achievements and being a supportive team player, you will make a great impression on your employer and the rest of the team. This can give you a good chance of promotion and accessing other opportunities as they become available.
You shouldn't be afraid to apply for better-paying roles with more responsibilities. Even if you have only been in your job for a year or two, it can't hurt to try. Many people stay in junior positions for far longer than they need to, simply because they are afraid of being rejected if they put themselves forward for advanced roles within the same company or elsewhere. Tech is one industry where your experience is valuable and increases in value with time. So, don't be afraid to aim higher. The worst that can happen is that you will be told no, but the best outcome is that you will be told yes.
Take advantage of networking events
Networking can greatly improve your job prospects or gain you freelance clients if you choose to go down this route. Social media can be a great way to network.
LinkedIn is the most obvious choice for professionals who want to find work or make contacts. Facebook and Twitter shouldn't be ruled out completely. For example, Facebook groups can be a great place for building professional relationships and getting support and advice. This works both ways, so if you have the expertise to contribute, the people in your group will be more likely to offer you support when you need it. You never know when an informal discussion will lead to an opportunity you wouldn't have had otherwise.
Networking in person can still be beneficial. For some, this can be daunting. So, using online bulletin boards and social media can be a good place to start. Many people like to communicate face to face. If you can build up the courage to attend networking events in person, you should do so. There are also conferences that are specific to different industries, and these can be helpful for meeting new people. They may not lead to immediate opportunities. Often, someone will remember a conversation they had with you and contact you later, when they require your skills.
Switching to a career in tech will involve work and commitment, but the payoff of a secure career, job satisfaction, and higher earning potential makes this worthwhile.