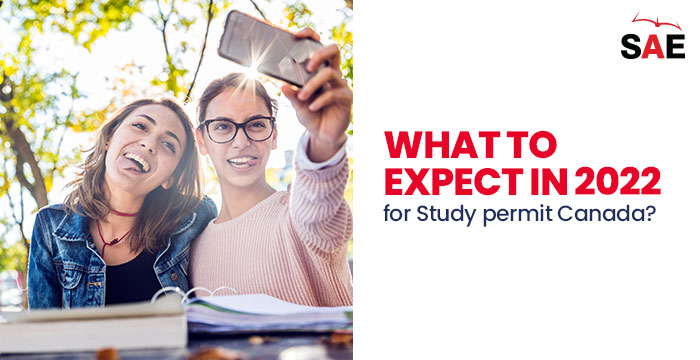 What to expect in 2022 for Study permit Canada?
The year 2022 is going to be a booming year of international education. If you apply for Study permit Canada as soon as possible, you will get early access to this new academic year. And, if you prepare your study permit application early, you can achieve your safe spot in the next intake easily. Considering the ongoing pandemic which is affecting the processing times, you should prepare your documents early.
Upon successful submission of your application, you will receive Canadian study permit that will permit you to study, stay and obtain a Social Insurance Number (SIN) to work in Canada. However, the study permit is not a visa which means you may not enter Canada. Therefore, you also need to apply a visitor visa or an electronic travel authorization (eTA) after receiving your Canada Student Permit.
Here are some of the updates which you can expect in this year for Canada Student Visa.
If you are taking your help from an overseas Education Consultants in Mumbai, you may experience a smooth application process. They stay updated with the changing trends and visa policies with overseas education. Currently, there are new changes come into effect since the Omicron COVID-19 variant has hit Canada. A travel ban is now in place for the students from the listed country with Canadian COVID-19 Omicron restrictions. And, the applicants must be fully-vaccinated with approved listed vaccines for the purpose of travel.
Due to COVID-19 travel restrictions, IRCC cannot process visa and study permit applications normally at present. Therefore, the priority will be given to the individuals who are exempt from travel restrictions. These applicants will have to undergo a medical exam and provide biometrics, and clear all paperwork the before entering Canada.
To apply for Study permit Canada, you can choose the Student Direct Stream (SDS) programme which was introduced to increase efficiency in processing applications. The applicants from these countries are eligible for the SDS programme – Antigua and Barbuda, Brazil, Costa Rica, Colombia, China, India, Morocco, Peru, Philippines, Pakistan, Senegal, St. Vincent and the Grenadines, Trinidad and Tobago, and Vietnam.
To know more about the overseas education opportunity in 2022, you can directly talk to our overseas education specialists on 8595338595. You can simply drop a mail at [email protected] for free counseling.