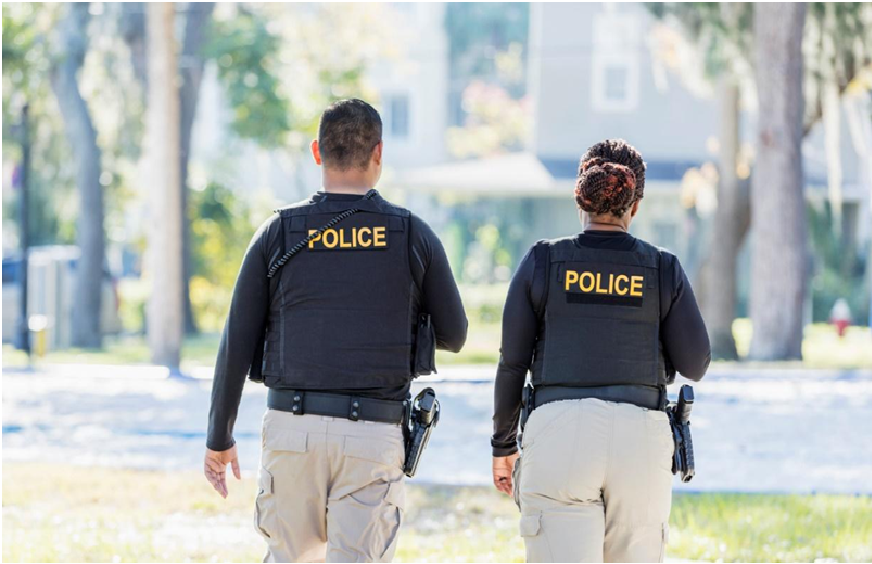 How to further your career in policing, and the qualifications you can get
Serving your community as a police officer is a rewarding experience as you will represent your community and ensure everyone's safety. However, you can advance your policing career by attaining one of many further qualifications.
Today's police officers have multiple qualifications available to explore. These qualifications focus on serving the community in various ways. The certifications also cover the ever-expanding field of crime, as the measures necessary to thwart crimes have never been more diverse.
The are a number of different options for increasing your qualifications in order to progress a in policing career. The best place to start when thinking about this is to research the different roles available and areas you may be interested in, before then searching for a qualification that could set you on the right path. Expanding your current skillset is another way many people try to progress their current careers, as improving on skills such as leadership and communication are skills transferable to almost any role within the policing sector.
Opting for an online course such as Wilfrid Laurier's bachelor's degree police officer program for example, has become a particularly popular way to learn in recent years. This is because online study has a lot of flexibility and allows you to balance academic studies with other commitments such as work and family life. You may require a few years of experience to attain one of these qualifications, though some may be easier to acquire with less experience. Be sure to look at what interests you the most, and plan well when finding a position of interest, as it is easier to receive a qualification when you have a strong desire for one field.
We will take a quick look at some of the different career options within the police, what they entail and the kinds of skillsets suited to each role:
Law Enforcement Analyst
A Law Enforcement Analyst plays a key role in helping investigators and police solve crimes.  An analyst will help boost the police department's performance by reviewing criminal activities and finding a way to optimize all existing resources.
An analyst will research crimes and identify unique trends and patterns in a community. The studies can create a strategic approach to maintaining and using police assets, including deploying officers in the right places or areas. Budgetary recommendations or other administrative changes may also improve the efficiency of a police department.
A crime analyst's work involves discovering patterns and using research to find information. The role requires attention to detail, and the individual must also be ready to work with other team members and communicate information as necessary.
The main skillset for a Law Enforcement Analyst includes the ability for analytical thinking, an understanding of legal procedures and government regulation, as well as excellent verbal communication skills are all key skills an individual would need for a role like this.
Professional Criminal Investigator
Criminal investigations are essential to reviewing cases and identifying possible points that can lead to arrests or convictions. Many crimes are complex or don't have as much information available, requiring police officers to investigate and review these situations well.
An investigator must have full knowledge of the law and use critical thinking and deductive reasoning to find different resolutions to various scenarios.
Anyone who has completed a bachelor's degree for a police officer position and has at least two years of law enforcement experience can explore options to enter a course to become a certified criminal investigator.
A CPCI will be more likely to enter various jobs involving criminal investigations. These positions can cover points such as interrogating people, counterterrorist activities, and fraud reviews.
Communications Training Officer
A communications training officer (CTO) is a worker who trains and supervises people in emergency contact dispatch centers. This police officer will direct people to the scenes of various emergencies in a local area. The officer reviews how dispatchers are operating and allocates the necessary resources to manage emergencies that may occur.
This position is essential for success, as properly deploying people in a work environment is essential for protecting the community. Clear communication and the ability to work under pressure are critical to an officer's success.
Corrections Officer
A Corrections Officer is a role that sees police officers working in the adult corrections field. A Correction Officer will need to understand the corrections field and have extensive knowledge of how to manage prisoners. The work includes transferring prisoners to and from places, ensuring proper entry and exit of people from a correctional facility, and reviewing anything that enters a prison.
A Correction Officer role is responsible for the supervision, safety and regulation of prisoners. The individual in this type of role must be capable of managing stress and communicating with others for success. Resilience is especially important, as an officer must be ready to handle various situations.
You will require at least one year of experience as a police officer in a correction setting.
Drug recognition expert
It is often challenging to spot if someone is under the influence of certain drugs. There are many illicit substances out there, and it is often hard to figure out who has been using them. A drug recognition expert (DRE) can identify who has been using drugs.
The work is about confirming possible drug usage while ruling out other considerations. Sometimes, the analysis can identify the location of illegal drugs. In other cases, you may discover if someone was under the influence of drugs when partaking in criminal activity.
This role involves a deep understanding of the seven categories of drugs and the signs that someone has been using them. These include cannabis, hallucinogens, narcotic analgesics, and other illicit materials that may result in an arrest for illegal possession. Important skills for this type of role include a good understanding of human behavior, the ability to examine and compile case evidence, and excellent attention to detail.
A drug recognition expert will need to have experience understanding how to analyze people who might have used these drugs.  Anyone who wants to become a drug recognition expert must complete the necessary training courses. A person must also have experience handling DUI arrests and have submitted at least two DUI arrest reports in their career. In some cases, a local prosecutor must also provide a recommendation.
Victim Advocate
A victim advocate is an essential role who provide support, information, and resources for victims of crime. Often advocates are responsible for supporting victims and their families through the criminal justice proceedings.
Although a victim advocates' responsibilities can alter depending on the crime and situation, generally the key skills required for this type of role include an understanding of the justice system, counselling and advocacy skills and the ability to problem solve under pressure.
This is a role that deals directly with the public and community you serve and can be a very rewarding career within the policing sector.
Traffic Accident Reconstruction Specialist
Another career option you can explore as a police officer is being a traffic accident reconstruction specialist.
A reconstruction specialist will review the factors that led to a car wreck. The analysis can include reviewing the site of the wreck, the vehicles in question, and any other conditions in an area. Eyewitness reports can also help confirm the details surrounding the event.
A reconstruction expert will help spot the cause of a collision, ensuring that there is a liability in a certain case. This point is necessary for ensuring justice in cases where one party is at fault. The review can also help when completing insurance claims, confirming that people will not spend more than necessary on repairs and other expenses.
Attention to detail and the ability to visualize ideas are critical skills for a reconstruction expert.
Crime Scene Technician
You can also look for a crime scene technician certification program in your area. A crime scene technician will work in a laboratory and analyze collected evidence from a crime scene. The work helps identify possible clues over what happened during the crime. The goal is to find who may be responsible for the crime.
A technician's job is different from what a crime scene investigator might do. An investigator will work at a crime scene and gather the evidence that the technician will analyze.
Lab experience and previous education in a scientific field such as chemistry or biology will be necessary. Some studies in biology or chemistry at a junior college may help, though the standards required for work can vary by open position. You'll also need experience gathering data and analyzing content before becoming a crime scene technician.
Can you complete further education?
While a bachelor's degree in policing can help you go far in your policing career, you can always consider an additional degree in another related field. These include degrees focusing on specific tasks you may encounter while in the line of duty.
Here are a few examples of the different degrees you can attain to further your policing career:
A psychology degree can help you study human behavior and understand what causes crimes to occur. This field focuses on individual thoughts and ideas that lead to behaviors, including how someone may be negatively impacted by certain concerns.
A sociology degree involves reviewing the social causes of crimes and what inspires people to break the law. Sociology reviews how different crimes occur based on previous experiences and what people may assume is normal based on what they notice in their cultures.
Foreign language degrees are also available for various subjects. The country is becoming increasingly diverse, with more people speaking non-English languages. A foreign language degree might be appealing if you live in an area where many people speak a particular language.
A computer science degree can help you learn how to identify cybercrimes and other more technical crimes. You can learn how online technologies and systems work and use your knowledge to identify cybercrimes that are becoming increasingly prominent.
A degree in criminal law can help you learn about legal procedures and laws in your field. You could become an instructor or advisor for new officers after attaining your criminal law degree.
Earning an additional degree can be appealing but be sure to look at your interests and experiences in policing when seeing what fits. Choose a degree that goes well with your work efforts and can lead to jobs you might desire.
Conclusion
The qualifications you can earn as a police officer are extensive and cover many aspects surrounding your work. From investigations to physical security to drug reviews, there are numerous qualifications available to explore.
The police are a constantly evolving sector that offers a varied and interesting career regardless of the specialism you chose. As technology improves, there is also an increasing need for specialists in cybercrime to help tackle a new crime online.
You can advance your policing career by checking what positions are available in your area and how you can qualify for them. You can also check around online to find different programs to help you prepare for certification. Don't forget to attain the necessary work experience to advance in your field.
You'll find many qualifications that will interest you and help you become a more proficient police officer. There is also the potential to earn more money in some specialized positions. Be sure to see what is open today, and plan so that you can go further as a police officer.